2018-11-27
The colorful world of upholstery fabrics. Discover the collections for the 2019 season!
We have expanded the offer of upholstery materials with new, original designs. As a distributor of modern fabrics, we follow current trends and always try to choose such proposals, that will change the look of even the most classic furniture. And the variety of available structures, colors and styles is huge. It should be remembered that upholstery fabrics, apart from using them in the production of couches, chairs or armchairs, also play a decorative role. Ideally they look in the interiors in the form of curtains, furniture accessories, bedspreads and rugs. We have chosen collections for you, which are characterized by a certain kind of universality and what is important - they have excellent usable properties.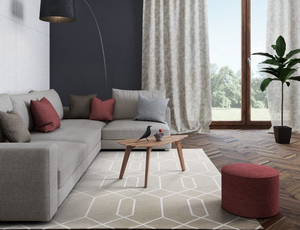 Currently, more and more fabrics can boast of a technology, that allows removing dirt from the surface of the material. Most often, these systems are divided into two groups - the first is "water repellent", that collections limiting the absorption of spilled liquids, while the second group is easy-clean fabrics with a coating, that undergoes cleaning process without disturbing the unique fiber structure. Interestingly, not every easy-clean fabric has hydrophobic properties, although there are those on the market that combine these solutions. When choosing a material, it is worth to follow the available protective barrier, because it will significantly simplify everyday use of furniture. But do not forget about colors, because it is the shade of the fabric and its design will be the showcase of the ordered sofa, bench, cushion or upholstered bed. In the end, the fabric "creates" a piece of furniture, dresses it and shows its quality. And how are our latest collections falling on the background of these features?

MAGIC HOME IN YOUR HOME

Fabrics from the Magic Home collection have been testing for many years both - at home and in public places. At present, we can offer you without exception - all materials from this series. Our two novelties in the family of easy-clean fabrics are Lana and Rene. The first of these is a collection of incredible durability and a very delicate structure, resembling natural wool. All thanks to the multi-colored yarn, that creates a characteristic herringbone pattern on the surface of the material. Lana will be perfect for large upholstered furniture, covers and curtains. In turn, Rene is a fabric like a chameleon - it shimmers with pastel colors and bewitches with a velvet texture. As befits a chenille material, it has excellent tear resistance. We recommend it for sofas, benches or stylish poufs. These fabrics are synonyms of high quality, available to everyone. Free of allergens and friendly animals will allow you to build a harmonious, safe home for you and your loved ones.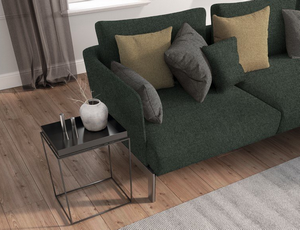 EARTH COLORS

Materials appearing on the market are to make our lives easier. This is the idea of ​​producers who increasingly focus on the quality of products offered. All thanks to better customer awareness. After all, why replace the upholstery after two years, if a good quality fabric will serve us for several seasons? Interestingly, you do not have to worry about the color scheme, the direction of which for some time is one - the return to the roots. The desire to create a natural final effect combined with the shade of the walls and curtains caused that the colors of the earth are the most sought after today. Mild, pastel colors can also be found in our new collections from the Smart Fabrics series - Icon, Ronda and Monolith. If you strive to be close to nature and the flat is associated with an oasis of respite, you will certainly like the materials presented. Imagine a copper-colored bedspread, khaki-colored pillows, and your favorite sofa in stone colors. Such arrangement will be conducive to silence, positively affecting the well-being of the household members. It is also worth noting that Smart Fabrics fabrics were produced in accordance with the European REACH regulation, are environmentally friendly and do not contain harmful substances.

GEOMETRIC PATTERNS ON THE TOP

Apart from fabrics with a delicate, natural structure, modern designs are also available, which constitute a specific mosaic of intense colors and shapes. This is a great way to break the dull, sometimes monotonous colors of smooth collections. These products perfectly fit into the concepts of boho or vintage style. Among the proposals, that in our opinion deserve recognition were Jamajka, Peru and Malawi. These three geometric patterns captivate with juicy colors native to Africa and South America. They can not be assigned a specific destination because they will work both as a chair and armchair, as well as a stylish living room decoration in the form of curtains and pillows. The use of high quality cotton promotes better air circulation and positively affects the way the fabric is laid, regardless of the shape of the furniture. In our offer there is also a Fariton collection, which is a three-dimensional model for the Koseling coordinator. The design of the material confirms the thesis, that decorating trends are becoming more and more bold from year to year. The number of possible combinations becomes unlimited, so that interior design is simply fascinating.

Photo source: fargotex.pl