Our realizations: "Cafe Tartalina"
2018-04-22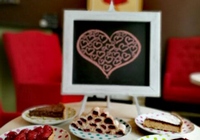 Have you ever dreamed of feeling the atmosphere of Parisian streets, drinking a cup of your favorite coffee and eating something filling?

There is no need to leave the country in search of such places.

If someone visits Białystok or is lucky and lives in the capital of Podlasie, he should definitely look at Kilińskiego Street.

On a short stretch of road, among the many dining options, you will find a Tartalina café, whose specialty is delicious tarts and cakes in every form.

We encourage you to get to know this unique place with a delicious menu and interior, that has been equipped with stylish armchairs from FitoutHOME.



In fact, full of fast food and typical bars, it's worth appreciating places that are an interesting alternative for them.

Interesting and above all healthy, and also - through a variety of flavors - let you move for a moment into a completely different atmosphere.

No wonder that Tartalina itself arouses interest in us, and certainly convinces with excellent cakes, salads and cocktails.

Although we have not had the opportunity to try, many positive customer opinions speak for themselves.

Presented dishes on the facebook cafe profile look insanely and probably taste the same

.


SWEET, SALT OR SPICY

?



Tartalina takes care of every palate.

In addition to regular menu items, you can count on a completely different, original desserts, lemonades, biscuits and snacks every day.

The company's kitchen is often ruled by seasonal products, therefore, along with new recipes and ingredients, the flavors that all visitors can enjoy are also changing.

Dry grated tarts in almost 50 versions, salads with hot bread, pancakes, truffles, cookies with stuffing, donuts, sorbets and special, sweet tarts - crudo, mint, chocolate, apple, tiramisu, nougat, truffle with chilli or

... drunk plum.

Is it true, that the mouth drops from the names themselves?

This rich offer will successfully satisfy lovers of classic pizza or dessert amateurs in various forms.

All dishes are prepared on site with fresh, aromatic products

.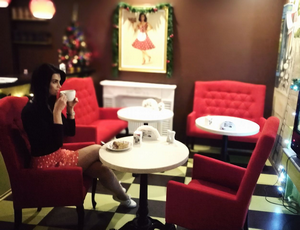 SIT DOWN AND ENJOY THE TASTE





The old truth is that a restaurant will always defend itself with good food.

It's a fact.

In the end, it's about to be delicious.

However, today in the face of high competition and growing customer requirements, other factors have an impact on the overall assessment of the premises.

The quality of service and the people, who create the atmosphere of the place are extremely important - after all, we like to come back where it is sympathetically.

The same applies to the interior.

The colors of the walls, decorations and style of the furniture should be consistent with the character of the café.

It is no different in Tartalina.

The restaurant underwent a subtle metamorphosis, during which a new shade appeared in its threshold - chocolate brown, referring to the sweet snacks served by the staff.

In the central part of the bistro, there are quilted benches and armchairs from our Ludwik collection.

The juicy, red color of the material warms the room's decor, and its improved properties enable the removal of basic stains.

What is important, the high, profiled backrest of the furniture is a guarantee of perfect comfort while sitting.

The whole looks stylish and cozy, thus creating the perfect conditions to enjoy the cafeteria delicacies.

So remember the address, come and let yourself be seduced by excellent quality.

The quality of the interior, the atmosphere and fantastic dishes

.

Photo source: facebook.com/tartalinabialystok