Decoratios: Find your style
2016-11-16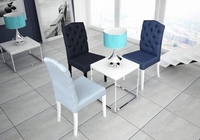 The impact of foreign trends, increasing affluence and a better awareness of what your own expectations when shopping contributed to the fact, that Polish people again began to discover pleasure in decorating home interiors. On our own we are looking for ideas that help make our homes not only practical in terms of space division, but also nice and aesthetically pleasing visually.
When we finally faced with the task to choose furniture for the hall, dining room and living room, often we lack the creativity to it, what style we would like to decorate the room. Of course this is no reason to worry, because it is currently we can find plenty of ready ideas to decorate every corner of your home. It is no secret that the primacy of brands sides in the debate the latest trends lead big foreign retail chains such as IKEA, OBI, Leroy Merlin, Jysk, which successfully shoving solutions have long been available in the West. Another curiosity is the fact that our society 20 years ago could not afford to change the interior design every 3-4 years for a simple reason - hardly anyone have money for it. The wallet of the average Pole increases, and hence also its expectations. And very well, because the growing demands of consumers motivate manufacturers to create even better furniture, both structurally and visually. But how to find your style in the "ocean" of various tenders?

SCANDINAVIAN STYLE, INDUSTRIAL, FRENCH OR VINTAGE?
Probably a common man these terms say little about interior design. It should be noted, however, that they had time to pretty well take root in the universal language. Each of these directions has their characteristic features, which allow you to create decorators original arrangements in a similar climate. A consumer who does not have a clear preference should at first think about, what type of interior would feel best - whether in a cozy
, little room with a fireplace and a comfortable armchair, or maybe the room neat and orderly, which is dominated by minimalism? In answering this question, everyone will be easier to determine the direction of further "research". Of course, much depends on the amount of space we have. It is worth to think about style of interior at the design stage, under construction or home repair. If you like convenience and comfort of rest and the days are passing you on your leisure time with your family, it will be ideal solution for you Provencal style, inspired by nature, with warm and pleasant colors. Here furniture is massive, made of solid wood, with gentle, subtle shapes. But if you love space, harmony and simplicity, be sure to follow in the direction of minimalism. This style on can also be cozy. Of course it is not for everyone, especially since it limits use of complex shapes and colors. No matter what name carry different trends in interior decoration, this style, which they inspire, and to what furnish house, will depend solely on you. Be sure to follow your taste and what you like. Finally it comes to a place where you'll spend a lot of time. Choose one concept, try to carry it out to the end. Importantly, do not mix styles and elements not fit completely into each other. This may create a sense of chaos and confusion in your home.

GOOD, BECAUSE POLISH

Extremely wide range of furniture on the market makes now we can pick at will in hundreds of designs and colors. Large selection favors the formation of new decorative styles, which always are a subjective view of reality. Decorating the apartment we create something unique. Extensive assortment of furniture is also an advantage FitoutHOME store. With us, every customer can find something for self, from the futuristic models of plastic, by a solid wood products, after furniture design inspired from the past. Especially these last several years going through a renaissance, helping in creating interior blessed with glamor and luxury. Also popular are the products which are an exact copy of furniture from the communist period. All proposals, except stunning styling and "refreshed" design, have a very important thing in common - as in the past, so today are manufactured entirely by hand. Of course available technology significantly accelerates the execution of the contract, but any, even the most intelligent machine is not able to replace the human factor. High quality wood and materials used in the production makes it buying Polish furniture, you are buying at the same time guarantee their reliability over many years. Therefore, searching for inspiration for the decor of your apartment, be sure to check out our offer. We have for you furniture in many styles and designs, and most importantly 100% Polish production - reliable and durable.