Decorations: Lighting living room
2016-08-12
Salon is the central place of every home. The space in which we relax, welcome guests, play with and eat meals. It should therefore ensure adequate lighting living room, suited to its universal character. Advise that you do when decorating the interior use LEDs, which provide a strong beam of light with very low heat emission.

There followed a modernity. For this increasingly we begin to appreciate its advantages. We like to surround the luxury of not only during exit to a restaurant or club. Elegance and glamor we also have every day. Simple, solid lumps of furniture painted in full gloss become a stylish showcase of contemporary apartments. With the dominance of original architectural solutions, such as cornices, suspended ceilings, niches and shelves, there is a chance to apply one more decorative element - light. It is worth noting that slowly pass the time in which one bulb mounted in the ceiling illuminated the entire room. We are currently using more light sourcesrespectively from each configured. They are supposed to not only build the mood in the room, but also to play a role usable, when necessary to assist us in daily activities, such as while reading a book, crochet or watching TV.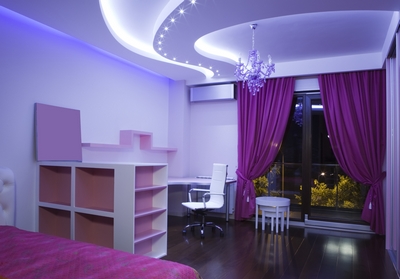 WITH AN IDEA

Properly selected light in the living room will allow you to emphasize not only the advantages of decorated space, but also build an amazing mood and a cozy atmosphere. To achieve such an effect may be extremely helpful to LED technology, which uses special diodes to produce light with different angles of incidence and in many colors. LED bulbs are much smaller than traditional, they are characterized by low power consumption and very long life. Additionally, these lights do not contain mercury and environmentally harmful substances. Diodes can be mounted almost everywhere, decorating the wall, ceiling, columns, stairs and furniture, which usually does not get too much natural light. Ideas to use LED technology is a lot. In addition to point-lamps, a huge popular as LED strips that can be cut into any length segments and create original compositions on the wall in the hallway. Usually they are available in multi-colored (RGB) with a controller that will allow you to set your preferred color and dimmed and brightened the emitted light. On the other hand, moldings of LEDs recommend mainly for installation in ceilings and in alcoves. Remember that the rooms such as the living room or child's room to choose warm light that has relaxing. Light bulbs with cool colored definitely better left to your place of work.

HOW TO CHOOSE?
Before you decide on a light arrangement in the apartment, be sure to think about it, what you want to achieve the effect. Remember that too much color LEDs can lead to eyestrain. Then your living room will certainly not be encouraged to relax and rest. When choosing LED lighting not follow the price, but the quality of the offered goods. Bet on branded products manufacturers such as Osram, Lumileds and Philips. Also note the color rendering index (Ra) - the higher it is, the colors in the room are faithfully given away. Having regard to these guidelines will make a rational choice of bulbs that will help you change the interior of your living room.