2017-05-03
Our realizations: "Restaurant Faktura"
It's more than just a restaurant. It is a place, that captivates with phenomenal decor, combining the harshness of materials such as concrete, wood and velor glass, the warm fabric texture of chairs and armchairs from the FitoutHOME. Discover an extremely atmospheric corner in the heart of a big city, in a former power plant building, at the central point of Manufaktura.

Manufaktura
is a commercial complex established in former textile factories in Łódź. A huge market with original, post-industrial buildings with red brick is a true architectural "gem". In the middle of the courtyard is a building of a former power plant, which was not used for a long time. It was not until this year, that the Faktura restaurant was opened on the ground floor. But it was worth the wait.

The spacious, elegant interior of the restaurant will make every visitor feel at ease and comfortable. All through the intermingling of styles, seemingly incompatible, and consequently building a harmonious whole. This place is perfect for business dinner, morning coffee and lunch with friends. Hybrid design is perfectly connected with the character of the kitchen, which is headed by Arkadiusz Klimkiewicz, a participant in Hell's Kitchen. Thoughtful flavors will awaken your imagination, just like the climate of the Faktura.


We are proud to have been involved in creating this unique place. From the threshold, the Rhone armchairs come in the original plum color. The "bucket" seat based on sleek, rolling legs is the quintessential Scandinavian design, which has also proven in the industrial interior.

Going forward, you can meet our next bestseller - a chairs with armrests. The beauty of natural wood perfectly blends with the velvety structure of the material used. Juicy and exceptionally noble colors significantly warms the architecture of the restaurant, while referring to the wooden mosaic wall, located deep in the premises.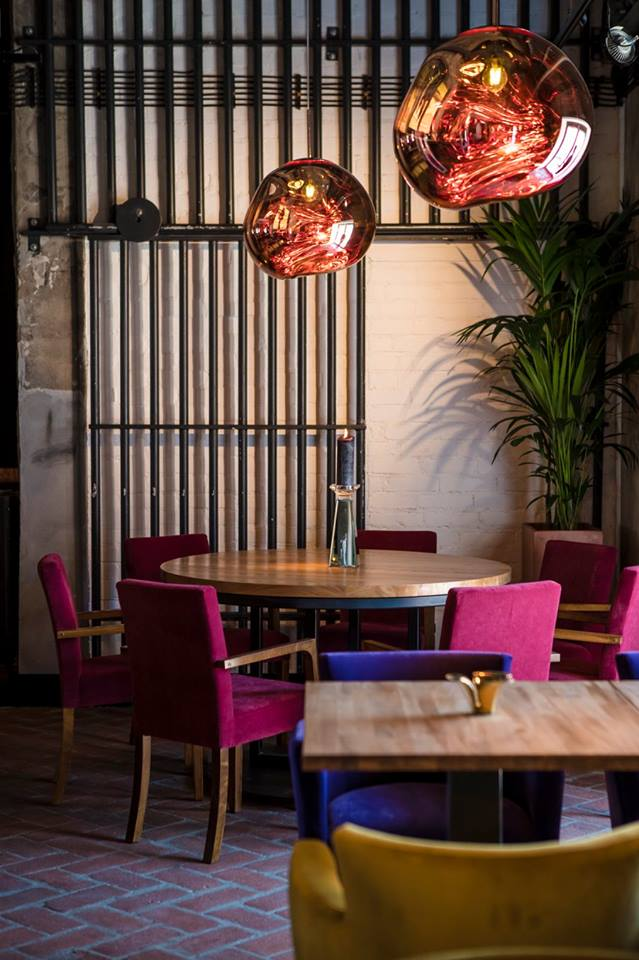 Undoubtedly, the clamping ring of the varied nature of the Faktura is bar stools with piping, an interesting alternative to the classic chairs, offering the best comfort while sitting. The furniture was made from high quality components - beech wood and HR foam. Washable fabrics (Infinity and French Velvet), which are resistant to all kinds of dirt and increased abrasion resistance, are also used. This will make the entire collection look great for a long time.

While in Łódź, you must visit the Faktura restaurant and enjoy the atmosphere of this place. Taste the perfect cuisine, which reigns with seasonal products and flavors from around the world. The impressive interior will allow you to spend your time and relax with a glass of your favorite wine. By the way, you will see our elegant furniture. A visit to the building of the former power plant can be combined with exploring the rest of Manufaktura. Post-factory complex houses over 300 shops. There is also a cinema, theater and museum.