2018-03-30
Inspiration: "Magical children's room"
The birth of a child is accompanied by unusual emotions, which often intensify when the first descendant in the family comes to the world.

Joy and pride intertwine with responsibility for a new life.

No wonder that we want to create a unique environment for the baby to grow and get to know the surroundings from the first days of being at home.

When designing a children's room, remember to equip it with furniture that will also serve your comfort and at the same time - will be its cozy decoration

.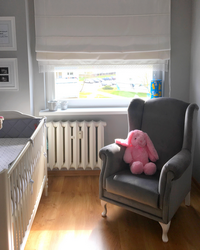 Waiting for a child is a motivation for many future parents to design a new interior - beautiful and innocent like a newborn baby.

The more awaited our baby is, the more we try to prepare the environment for his coming.

This unique time is a dream stage about the fairy tale room of the infant, a period of searching for optimal solutions and decisions regarding the choice of colors and patterns.

In the crowd of impressions and emotions, let's not forget to keep moderate, not to overdo it with the amount of colors and additions.

Let the world in which your child spends the first weeks and months of his life will be decorated with taste

.

WHAT COLORS CHOOSE?

The room of the infant should be first and foremost cozy and joyful.

Pastel, bright shades of walls, furniture and decorations certainly will work calming and optimistic.

Our observations show that the most frequently chosen colors are derivatives of gray, blue, pink and classic white.

Perfectly present, among others

in the form of a modern wallpaper with a pattern in thick stripes or a motif of small dots.

Thanks to such colors you can easily create an unusual atmosphere of a place where parents will spend a lot of time

.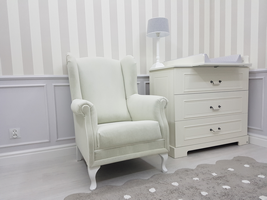 When choosing a bed for a child, be guided by its functionality - it is worth to ensure that the structure provides for the adjustment of the sleeping height, thanks to which the furniture will "grow" with the child.

This solution will serve you for many years without having to change the bed frequently.

In turn, all necessary accessories can be stored in a capacious chest of drawers, which can also be used as a place to change the newborn

.

A COMFORTABLE ARMCHAIR FOR FEEDING



Faced with the challenge of caring for a small child, it is necessary to mention the moments of building a bond between parents and offspring.

Feeding or hugging to sleep is a very intimate sphere, but pleasant for parents.

There is also the other side of the coin - sleepless nights.

Of course, this is an individual matter, but if you have adequate space, be sure to think about a comfortable armchair, which will not only be an ergonomic seat for a nursing mother, but may also be used as an armchair to read bedtime stories or just a moment of relaxation

tired parent

.


We are prepared for different expectations of customers, which is why we give you the opportunity to choose your dream furniture from the many available models.

Each product is personalized in terms of color according to your wishes.

We recommend checked patterns, such as our bestseller Uszak Velvet, which looks fabulously in pastel colors with white legs.

This large feeding chair has a contoured backrest and perfect proportions guaranteeing the best comfort while sitting.

If you prefer something smaller, then we also have another idea, documented with photos from our wonderful clients.

Lancaster is a stylish armchair with bent legs, the back of which has a deep quilting - to choose from buttons or crystals.

It is a perfect product for everyday relaxation and an unmistakable decoration of a children's room

.



Regardless of what type of equipment you like, remember that the whole thing should be coherent and thought out in practical terms.

Also, be aware of the safety and properties of the components used in furniture production.

When choosing, pay attention to the type of varnish used and the specification of upholstery fabrics.

Importantly, currently available upholstery materials have excellent performance parameters that will make childcare more pleasant.

In short, you can forget about stains.

And this is an exceptional advantage in the face of growing up children.

Therefore, we encourage you to get to know our entire offer.

Certainly you will find with us many interesting inspirations and ideas, thanks to which you will furnish a newborn room like a fairy tale.