Installments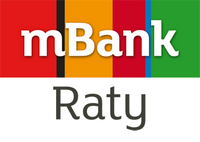 Installments are a convenient form of shopping without leaving home. Even if you do not have enough cash, fast loans over the internet will help you to fulfill the dreams and without burdening the household budget. In our shop we offer installment mBank system that allows for the conclusion of the credit agreement entirely online. 
mRaty is simple and advantageous loan that you can take, when ordering in our shop. This way of settlement of purchases has several important advantages:
receive credit even in 15 minutes

loan amount from 300 to 20 000 zł
to any products offered by the store

from beginning to end through the internet
without unnecessary formalities and visits courier


convenient loan period from 3 to 36 months

possibility to suspend principal payments

How do shopping with mRaty in our store?
 
    


STEP 1

Place order


Add products to your shopping cart and proceed to the checkout. After the submission of select prepayment as a payment method, and then choose from the list mRaty.

 
 

STEP 2


Fill out request for mRaty


Fill out request for a loan completely online. When submitting the application you have the option of declaring personal contribution, that you transfer to the our account after the conclusion of the contract.


 
 

STEP 3


Sign an agreement online


After receiving positive credit decision sign the agreement. If you are not a customer mBank do the transfer 1 zł from an account in another bank. If you are a customer mBank agreement accept the transaction service.


 
 


STEP 4


Opening of credit


After receiving a positive decision and the signing of the loan agreement, mBank transfer the funds to our account up to 15 minutes. Then we begin to the processing of your order.

If you have questions, doubts or technical problems associated with the submission of a loan application, please contact the helpline mBank at number +48 42 6 300 800 or our Customer Service at +48 500 690 691.